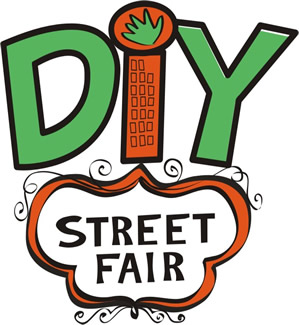 With only a few days left of summer, weekend festivals have been in full swing here in the metro Detroit area. The weather has been chilly and rainy as we enter the fall season, but the sun decided to stick around long enough for the last big festival of summer, and it happens to be my favorite of the year: The DIY Street Fair in Ferndale.
The DIY Street Fair is a free, two-day, three-night annual event that showcases the blood, sweat and tears of local do-it-yourselfer's with items like clothing, jewelry, art, housewares, music, and much more.
The DIY Marketplace is nestled on both sides of 9 mile and Woodward in Ferndale, where eager entrepreneurs with individual tents line the streets. This street fair offers over 100 artists, 40 live, original bands, 15 local Michigan brewers, six local restaurants, and one kids zone complete with a rock-climbing wall. The fair was open September 17th through the 19th, providing an entire weekend of creativity and fun.
Upon my arrival in Ferndale, I thought parking would be atrocious, but was pleasantly surprised when I found plenty of empty spaces in lots only a block away that didn't cost anything.
Walking up and down 9 mile was glorious with the smells of all the different restaurants, the sounds of friendly people chatting, beautiful art as far as the eye can see, and sunny weather to top it off, making the whole event feel like an official summer's end celebration.
I'm not ashamed to tell you that the first thing I look for at any occasion is the food, and who could blame me with all the delightful scents wafting my way as I passed through the narrow lines of tents offering samples of food made right in my own backyard (kind of). My food highlights of the day were pizza from Como's and garlic pickles from McClure's. I also taste-tested flaxseed bars from local health food stores and fruits from locally grown farms.
While enjoying my food, I stumbled upon the main stage where a band called Mood Elevator was playing. They had a classic rock feel with punchy-sounding guitars and catchy chorus'. Not bad, but nothing to write home about either. Other bands played through the day such as Skeleton Birds, Prussia, and The Silent Years, which I would categorize in indie rock. On Friday and Saturday, bands like The Sirens, Citizen Smile, The Satin Peaches and most notably, Electric Six played.
Next to the Metro Times stage was the beer tent, where local brews were being passed around by the cupful. It featured beers from local breweries such as Arcadia Ales, Atwater Block Brewery, B. Nektar, Corner Brewery, Founders, Frog Island, Kuhnhenn, Liberty Street Brewing Company, The Livery, Millking It, Mount Pleasant Brewing Company, New Holland Brewing, Shorts Brewing Company, Sherwood, and Woodward Avenue Brewers.
I was most interested in what the local artists were selling, though. I circled the tents at least three times a-piece, making sure I didn't miss anything. While each had something different and interesting to bring to the table, one artist in particular caught my eye: Kandy Myny. Her design studio, called "bit o' whimsey," featured colorful and unique paintings on wood that featured cartoon-like birds, buildings and skies, and reminded me of a children's book made for adults. It was cartoonish, chaotic and simple, but dark and thought-provoking. One of her paintings will definitely be featured in the living room of my residence. Her art can be found at www.bitowhimsey.com.
Another notable artist was Stephanie Selvaggio, whose store is called "Millie Bea's." Her art features hilarious depictions of 19th century women chasing after their husbands with knives, juggling knives, and partaking in all sorts of shenanigans. She has a large assortment of vintage clothing and jewelry. Her art can be found at www.milliebeasvintage.com.
DIY Street Fair 2010 was a blast, and it sure seemed like all the artists did very well creatively and financially, as I saw several groups of people leaving Sunday night with purchased items in hand. I already can't wait for next year's event!