The Black Keys: Attack and Release CD review
4.5/5 stars
On April 1st, the blues-rock duo known as The Black Keys released their 5th album, Attack and Release.  The band, hailing from Akron, Ohio, got a little help this time around from producer Danger Mouse (who also plays piano and organ on the record).  Since the release, the fellas Dan Auerbach and Patrick Carney have received high praise and more media attention than usual, thanks to the new production.

Mr. Mouse (who proved here he deserved his previous Grammy nomination for producer of the year in 2006), doesn't drastically alter the delicious unrefined sound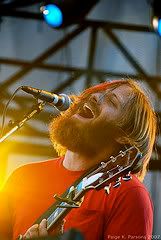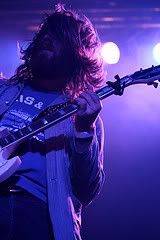 kick-ass guitar licks paired with Patrick Carney's passionate drum beats, as well as their contribution on we know and love as true Black Keys fans.  Attack and Release has the same rawness as the first four albums and you'll still feel as if you're right in the studio with the boys.  Dan Auerbach's gritty vocals and numerous other instruments, remind us of just how talented these guys are.
Check out these songs:  (my personal favorites, if you will)
All You Ever Wanted: The first track sounds as if a blues-cowboy wrote it. You'll unconsciously tap your foot as you sway to the soulful, western beat.
I Got Mine: Brings us back to past Black Keys records, with those familiar fervent blues.  If you've ever seen The Black Keys, you'll instantly picture them singing this one: passion in tow, rocking out, sweaty heads banging, hair in face.
Lies: Resonant of "The Flame" from Magic Potion, this super trippy track compels you to just close your eyes and feel the music.
Remember When (side A and side B):  Two totally different takes on the same song.  If you weren't listening to the lyrics, you'd have no idea it was the same song.  Check them both out and decide which you're partial to: side A, the gentler, more psychedelic version, or side B: the garage-recorded sounding, rougher track.
Other key tracks include: So He Won't Break and Things Ain't Like They Used To Be (Really, there aren't any that are below average, but these shine).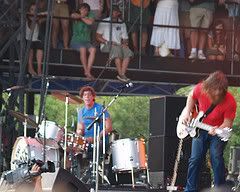 I advise going to a live show to witness just how much these guys love their job.  They play each show as if it were their last and you'll leave feeling like they played just for you.  Check out the boys' touring schedule and several tracks on http://www.theblackkeys.com/ and The Black Keys are no strangers to the festival circuit so look for them this summer at Rothbury (July, Rothbury, MI), Lollapalooza (August, Chicago, IL), Austin City Limits (September, Austin, TX) and many more.
(All images courtesy of Jillian Black and flickr.com)