{moshits} Views
Back in September, while most of us were indulging in the humor of Good Luck Chuck and the drama of Eastern Promises, a magnificent and remarkable movie crept onto movie store shelves, largely unnoticed…
(All images courtesy of Sony Classics)
I'll start by saying what an injustice it is that The Jane Austen Book Club hardly made headlines and even worse is considered by some as a "B" rated flick.
Though I have only read a few of Austen's literary works, the movie was still highly enjoyable and incredibly easy to follow.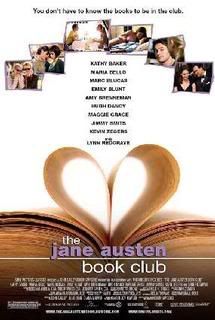 The movie, based off of Karen Joy Fowler's 2004 book, The Jane Austen Book Club, actually benefits from not having a single high profile star, but insead gathering together a highly talented cast which features Maria Bello (ER, Assault on Precinct 13), Jimmy Smits (NYPD Blue, The West Wing), Hugh Dancy (Blood and Chocolate, Black Hawk Down) and Amy Brenneman (Judging Amy, Private Practice). With these actors at the the helm, and Robin Swicord in the director's seat; the movie takes viewers on a remarkable journey through the trials and tribulations of six remarkably normal people who discover themselves dealing with life's latest batch of lemons.
Through reviewing Austen's work and through the comforts of each other's companionship, a simple book club begins to transcend the boundaries of everyday life and begins to help its members to finally fully understand the value of friendship, family, and love.
Anyone who wants to step outside of the box and venture towards a great cinematic journey, The Jane Austen Book Club is certainly worth checking out.
Overall: With an amazing cast, a non-stop plot and a dash of endearing humor, The Jane Austen Book Club scores high as one of the most underrated and most enjoyable movies of 2007.